---

Fund news:


(August 23 2000)
The fund buys a stake in Vendex KBB at € 14.38 per share. Due to the constant pressure on ICT stocks and the large cash ammount in the fund the decision was made to buy traditional stock like Vendex KBB.


(August 23 2000)
TAS Groep N.V. releases their first halfyear results according consensus estimates. Howevers TAS warns on second halfyear results causing the shares to slip 5,17%. Due to the slip in TAS shares the fundshares shed € 0,31 (0.77%).


(August 15 2000)
KSI International gives a profit warning. Shares in KSI drop 30% causing a € 0,79 (1.96%) drop in fundshares. All KSI International shares sold.


(July 14 2000)
CEO Informix fired and replaced by an other member of the board. IFMX shares gain 12,66% helping the fund shareprice in it's rebound.


(July 13 2000)
Profit warning and reorganasation announcement hits Scala Business Solutions hard. However fundshares gain due to other market gainers.




---
fund performance chart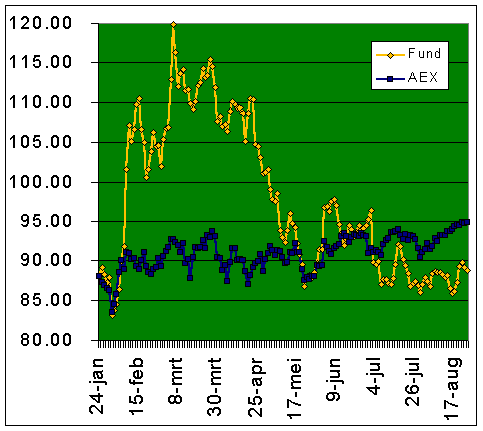 ---
The shareprices above in Euro's and Guilders are made up each day after the markets in America and the Netherlands are both closed. The Quotes are updated every weekday night at about 22:30 (Amsterdam) / 16:30 (New York)


For more information you can click: here.




Stock Guide by Gert-Jan Holstege. The Netherlands (c) 2000.
If you have any comments or questions please contact me at gjholstege@softhome.net
This site is best viewed in Explorer, some components might not work when using Netscape Navigator.