Stock Guide's Books & Software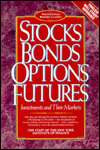 $22,36 (you save 20%)
STOCKS, BONDS, OPTIONS, FUTURES: INVESTMENTS AND THEIR MARKETS
From arbitrage to zero-coupon bonds, this all-inclusive guide explains the fundamentals of investments and their markets. Covers how broker/dealer firms function, option trading, technical and fundamental futures, exchange and over-the-counter transactions, and more.
---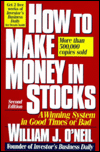 $8,76 (you save 20%)
HOW TO MAKE MONEY IN STOCKS; A WINNING SYSTEM IN GOOD TIMES OR BAD
The previous edition of this best-selling classic has sold more than 400,000 copies. Now market guru and Investor's Business Daily publisher William O'Neil has thoroughly updated this virtual rule book for becoming an investment pro. How to Make Money in Stocks offers rational, well-documented guidance for all who want to make smart investments-even people who have never owned stock before. O'Neil explains how to make money reading the daily financial news pages. . .pick the best industry groups in the market. . .read charts like an expert and improve stock selection and timing. . .substantially reduce losses and mistakes. . .and turn a profit from reading and analyzing the news.
---

$70,00
TECHNICAL ANALYSIS OF THE FINANCIAL MARKETS: A COMPREHENSIVE GUIDE TO TRADING METHODS AND APPLICATIO
Technical Analysis of the Financial Markets expands upon and updates Murphy's classic Technical Analysis of the Futures Markets. Packed with some 400 real-life charts that clarify every key point, it covers: the fundamentals of technical analysis and chart construction; what you must know about trends and the building blocks of chart analysis; price patterns, including major reversal and continuation patterns; methods of analysis - moving averages, oscillators, contrary opinion, and other indicators; and time cycles, market interrelationships, money management, and trading tactics. Beginners and experienced traders alike will find a wealth of immediately useful information in this authoritative, yet easy-to-follow guide.
---

$17,50 (you save 30%)
DOW 36,000; THE NEW STRATEGY FOR PROFITING FROM THE COMING RISE IN THE STOCK MARKET
"What's the message investors have been getting from media pundits and so-called market experts? "Stocks are in the stratosphere....They're risky....We're headed for a fall.""--BOOK JACKET. "Jim Glassman and Kevin Hassett heard this message for years but wondered why the opposite kept happening. Instead of declining, the prices of stocks kept rising. Was financial gravity being defied, or were other forces at work? Were investors being frightened away from profits they could be enjoying from a market that will continue to boom?"--BOOK JACKET. "Dow 36,000 is the result of Glassman and Hassett's investigation. Its original analysis and practical program for profiting from the continuing rise in the stock market are ideas that every investor - from neophytes to the most experienced - must understand and act on now."--BOOK JACKET.
---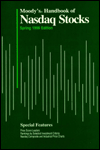 $34,95
HANDBOOK OF NASDAQ STOCKS
The fast-moving companies of the Nasdaq, with current performance and historical background for determining growth opportunities. Published quarterly.
---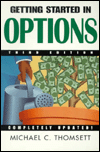 $15,16 (you save 20%)
GETTING STARTED IN OPTIONS
Time values? Puts and calls? Striking prices? For many, investing in options can sound so risky that they fail to capitalize on a potentially lucrative opportunity. This straightforward guide thoroughly demystifies the options markets, enabling you to not only effectively maneuver within them, but to gain healthy returns from them. In nontechnical, easy-to-follow terms, Getting Started in Options, Third Edition arms you with the facts you need to make informed decisions about choosing stocks, tracking options, selling calls, and much more. Updated - and including the latest information or understanding and controlling risk - this practical book shows you how to set up a plan based on your specific investment requirements; master all the terminology; buy and sell puts and calls; hedge and speculate like a seasoned investor; understand time values, striking price, and expiration - and use them effectively; read the market and spot the specific risks of each type of option; and profit in these exciting markets.
---

$27,95
Money 99 Basic
Microsoft Money 99 Basic helps you easily perform your core financial tasks, everything from paying your bills, to creating a budget, to reducing debt in a smarter and faster way with Money's extensive help options.